This is it, the last day of #INKtober 2022 and my drawing for it! Assessing my experience with daily drawing using #INKtober prompts, I noticed several things that I think led to my success. First, my decision to do my best to keep it simple and quick. Nothing like knowing a drawing will soak up an hour or more to make one procrastinate but a ten to fifteen minute block of time was easy to fit in, even on the busiest days. I also found myself remembering and practicing the fact that one does not have to draw every line, that often something can be hinted at with just a few strokes. No need to get complicated though I tend to get caught up in details.
But in sketches like this, details can sometimes muddy the picture and even obliterate what one is trying to capture. But truth be told, this last week started to feel more like a chore than fun, probably because of distractions that arose as life intervened.
Still, when I ran across the quotation below a few days ago, I thought, yeah, there were days that felt like that, both in the drawing and in the living.

"We make our way through Everything like thread passing through fabric, giving shape to images that we ourselves do not know."
More quilting on the Peace quilt ensued, three actually to my surprise. It is making a difference. I don't think I'll keep up with the sketch a day but exchange it for some time at the sewing machine each day. The usual once or twice a week I sit at the machine isn't nearly enough. I'm reviewing my work at the end of each session with criticism and a tad of disappointment that I haven't sewn those lines straight enough, being sloppy. I'm maybe a bit in the "energy gap" that Ira Glass speaks of when talking about how hard it is for creatives to get started. Austin Kleon illustrated it this way: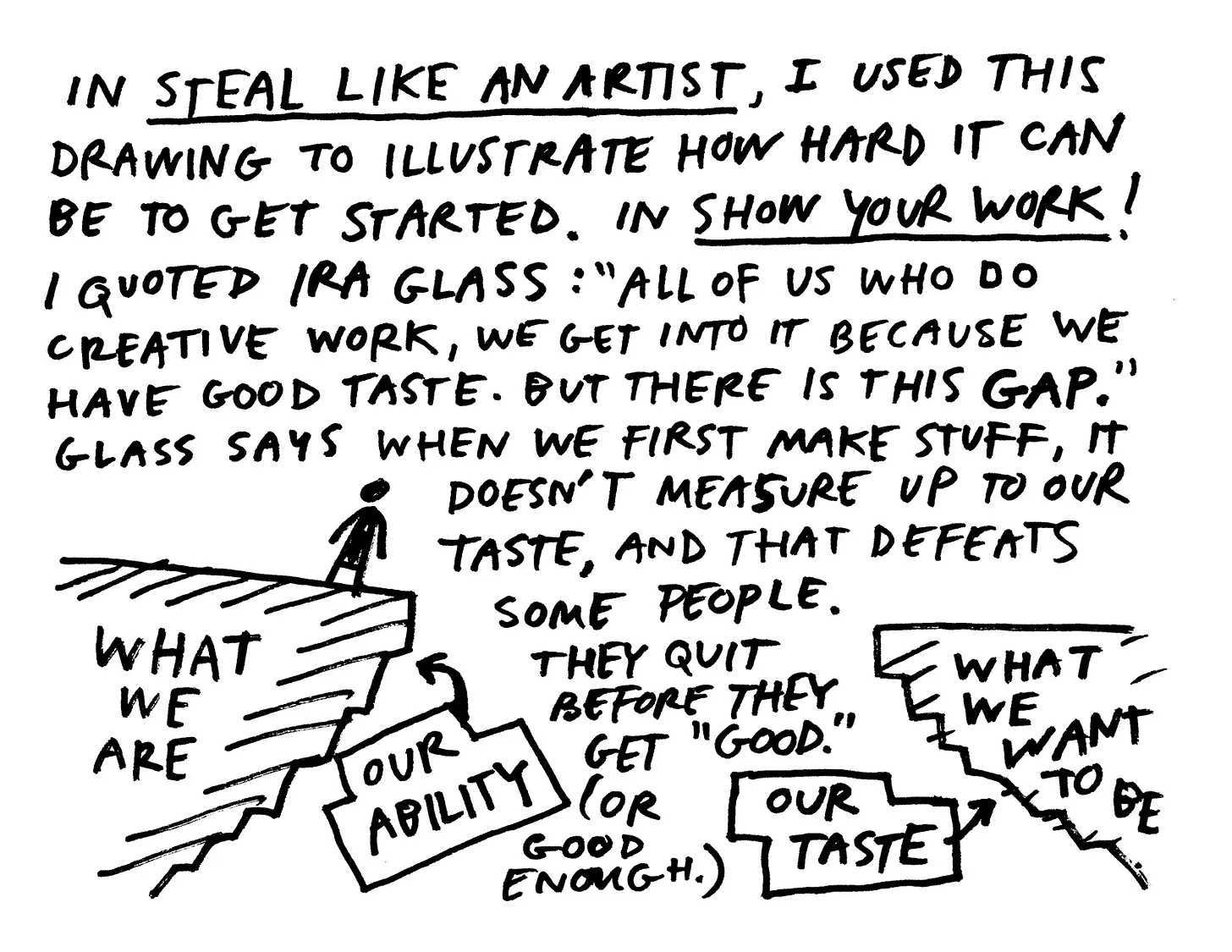 I know based on past work that I am good, but right now as I get back into it after a long time off, I think I'm not good enough. I hate it when I catch myself thinking, "Good thing I'm making this just for me." While I don't expect perfection, I do have my standards and at least on this quilt, I'm not living up to them. Next time . . .